ICE3 - Arctic Triple Relay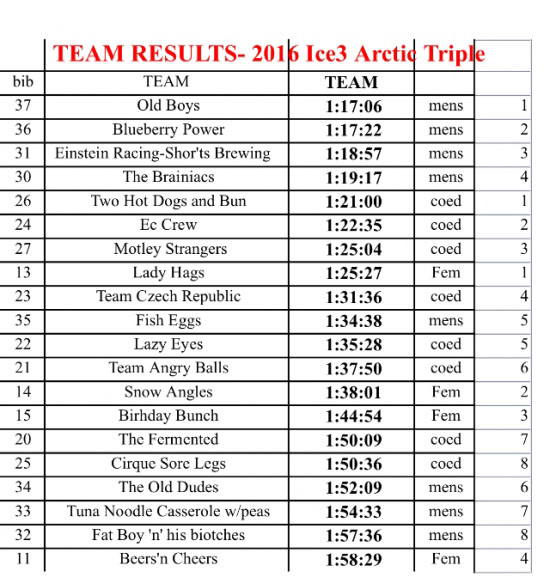 THE ONLINE REGISTRATION CLOSES TODAY !!! YOU CAN STILL REGISTER IN PERSON ON FRIDAY 6-8 PM at TIMBER RIDGE!!!!!
WE ARE ALSO ADDING A RACE after RACE - ONE DOES IT ALL!
RACE OF INDIVIDUALS completing all 3 legs of the race - will start around PM (30 minutes after awards) NO SIGN UP FEE - ONLY ONE CONDITION - ANYONE WHO WANTS TO DO THE INDIVIDUAL RACE HAS TO PARTICIPATE ON THE REAM RELAY! - NO EXCEPTIONS.
Make sure you sign up for the Individual race at the time of Bib pickup.
Fri 6-8 PM and Sat 8-9:30 AM at TIMBER RIDGE
ALL PARTICIPANTS have to sign a Liability Waiver.
Setup of the race stays same:
1st LEG 5 Mile Nordic Ski (Freestyle or Classic)
2nd LEG 5 Mile Bike (Fat Bike)
3rd LEG 5K Snow Shoe (20"x 7" minimum 120sq.)
MALE, FEMALE and CO-ED TEAMS
AWARDS FOR TOP 3 TEAMS in EACH CATEGORY!
Each Leg will Start and Finish at Timber Ridge, Traverse City. This is a true relay with each leg starting immediately after the finish
of previous leg.
COURSE
The race will begin at Timber Ridge, starting with each Team Cross Country Skier at 10 AM. The skier will complete 3 loops and will be immediately followed by the team biker. All Bikers will also complete 3 loops on separate course designated for bikes only. The Snow Shoe member or the team will finish the race by completing 3 loops on a snow shoe trail (mixture of groomed and none groomed course).
FUN SHORT COURSES
To keep it fun and competitive for all team members from start to finish.
This will also make it a great show for all spectators and give the none competing team members the chance to cheer on their Team mates. Come have fun with your friends and do your personal best!
Promote three winter activities to all active people regardless of skill level.
Meet active people who enjoy all types of WINTER SPORTS.
Registration
Go to "Register" page on this website and enter your team name and the names of your team members
(We will allow a change of TEAM MEMBERS. If you do not have a complete team, you can register under ONE NAME and add your team members later.
PLEASE NOTE, EACH INDIVIDUAL WILL ONLY BE ALLOWED TO COMPETE in ONE LEG of the race! THIS IS A TEAM RELAY - NO EXCEPTION !!
If you only have one or two team members and need help to fill a spot, Call me or Write us an E-mail or FACEBOOK message us - We can help you connect with people that might fit your need! Contact : Dan at 231.631.6168 or RaceTC@raceTC.com
OTHER IMPORTANT INFORMATION
EQUIPMENT RENTALS
Timber Ridge, McLain Cycle, Brick Wheels and Einstein Cycle
Each will offer special ental rates for SKIS, FAT BIKES and SNOW SHOES for our race participants. Please call in advance to reserve your rental equipment.
PACKET PICKUP
Day of the race from 8AM at TimberRidge.
YOU can also contact me with any questions or suggestions. RaceTC@raceTC.com or by phone at 231.631.6168